Personalised Rubber Stamps
A rubber stamp might be better than an embossing seal for your needs, depending on your budget, materials and specification.
Stamps or brands can be designed for a wide range of needs and materials, including paper, wood, leather and metal – all available with your unique seal. We also stock a full range of hand inkers and pre-inked stamps for addresses, date & time, and other items which need regularly repeating.
Not sure what you're looking for?
We appreciate that all the different seal options may making finding the right brand for your product daunting. That's why we recommend contacting us for a fast, free discussion – we are happy to discuss your needs and can usually get the right product to you within 24 hours from initial purchase.
Bolsons provide a comprehensive catalogue of self-inking rubber stamps for use in the office, home and inspection. Orders for standard rubber & self inking stamps received before 10.30am are dispatched on the same day by First Class Post.
Standard Rubber Stamps
Logos, signatures, line drawings and special fonts from your own artwork can be incorporated at no extra charge. Please email good quality, black-and-white artwork as a JPEG file, preferably at actual size or slightly over-size. Please also specify the size of the final image required. Colours or shades of grey are best avoided as they may not come out satisfactorily. We can design new artwork from your ideas at extra cost.
Self Inking Stamps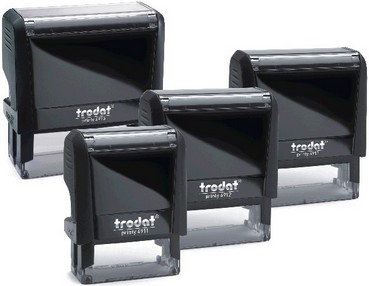 These are useful for fast application to standard, absorbent, paper or card. There is no extra charge for using your own artwork, such as logos, signatures, line drawings and special fonts. Available in a large range of sizes, the Trodat range is very popular. Simply tell us what you would like on the stamp and leave the rest to us. Standard ink colours available are black, red, blue , green and violet.
Date Stamps
From simple line daters to large self inking professional date stamps with the addition of text and or logo.
Electronic stamp
The new Colop e-mark colour electronic stamp. Accurate, multi line hand held stamping device that can store four separate designs. The stamp design, which can include date/time or auto numbering options are set via an app on your smartphone of tablet.
Do-it-yourself Stamps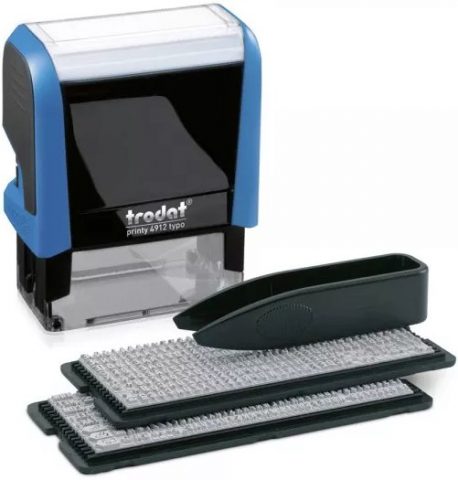 These Trodat Typo Printy "set your own text" stamps allow you to make your own address stamps or date stamps with up to 8 lines of custom text. Available with either 3mm or 4mm high characters.
Meat Stamps
To avoid areas of bacterial growth, our meat stamps are engraved from a single piece of polyethylene. These are large, specialised stamps designed for use with food safe buthcers ink in meat processing environment.