Working for Respected Companies
A seal is more than a sign of authenticity – it turns an ordinary document into something extraordinary. Something to be valued, treasured, and owned.
For Solicitors, Accountants, Legal Notaries and Stationery Suppliers
For companies that regularly produce vital documents, an embosser (or embossing service) can add value to your core audience . Many of our clients work regularly with solicitors and legal notaries who daily see the value of an embossing seal to demonstrate documents have properly authentication.
Bolsons' History with World-Known Institutions
A company seal is a mark of distinction. Something that tells the world "this company values quality of service and wishes to make their mark on the world. In over a century of creating Embossing Seals and machines, Bolsons have had the pleasure of working with organisations of international renown, including:
The House of Lords
St James's Palace
The Foreign and Commonwealth Office
The Archbishop of Canterbury and other ecclesiastical bodies
Seals for Schools and Universities
A seal is a great way to ensure your schools' certificates remain a timeless treasure for your students for years to come. Creating certificates can often be seen as an afterthought when preparing everything for your students. However, sometimes they are the most important piece – a way of students to keep their happy memories of their university or school fresh in their mind. The right certificate is something to be framed, proudly displayed – by adding a unique embossed seal, you can make your certificates into something eye-catching.
When an Archbishop leaves office, we can set their embossing seals into a hand crafted oak plaque. This creates a wonderful presentation piece to mark their time in office.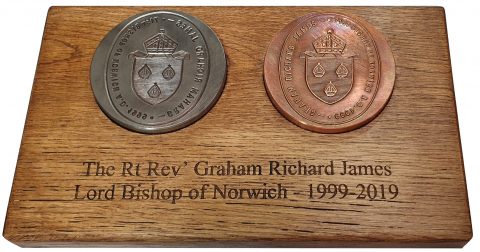 Wax Seals
Registers