Bolsons | Iron Notary Heavy Press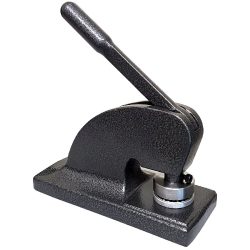 The Iron Notary press is a strong, durable product that sits easily on the desk top. A medium/heavy desktop seal for embossing a 45mm diameter seal onto paper up to 220gsm or  a 38mm diameter impression onto art and photographic paper up to 350gsm. Also capable of embossing a 65mm x 35mm rectangular format onto  220gsm paper.
£265 plus £15 carriage plus vat.